Here are Our Choices for the 10 Best Things to Do in the Smokies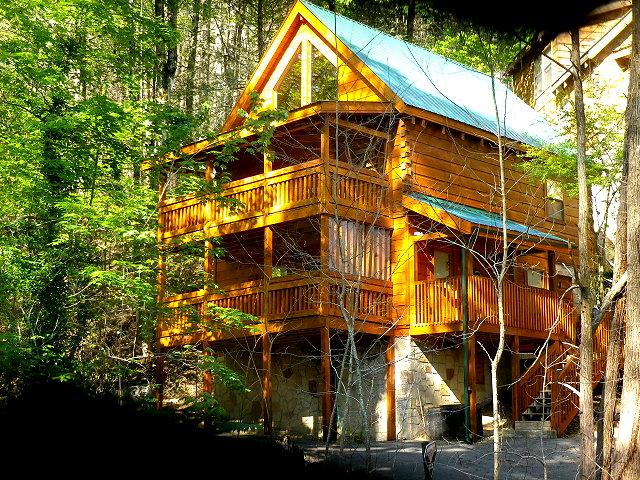 To be honest, there are hundreds of things you can do in the Smokies…from days at Dollywood to hours spent enjoying the seemingly endless trails of the Great Smoky Mountains National Park…there is almost too much to do! In fact, first-time visitors typically agree that they'll have to make a few return trips to do all that they hope to do. Of course, in this guide we are going to look at only ten of our "best" or favorite options, and the very first is to book your stay at one of the cabins near Gatlinburg.
Stay in Gatlinburg Cabins
Why is this the first item on our list of best things to do in the Smokies? Because where you stay on a vacation is the driving force for how the whole trip goes - it influences almost all your trip experiences. It just makes sense to choose a spot that lets you savor the natural beauty of this amazing region, as well as the tranquility and peace. Yet, cabins near Gatlinburg are just that - near Gatlinburg - putting you at the heart of the very best of the best activities to savor during a visit.
Known as the gateway to Great Smoky Mountains National Park (and its half a million acres), Gatlinburg is also home to a wonderful collection of attractions. Many of them will actually appear here in our list of the best things to do, and once you've made your choice from the Gatlinburg cabins, it is time to make a list of the "must see and do" activities of the region.
Great Smoky Mountains National Park
We honestly rate this as the #1 thing to do while visiting the Smokies. Giving the area its name, Great Smoky Mountains National Park welcomes millions of visitors every single year. It spills over into North Carolina and is home to an amazing number of biking, hiking and even horseback riding trails. You can see much of it from your vehicle and that includes the popular Cades Cove, as well as the many show-stopping waterfalls on the Roaring Fork Trail. (See the next "best thing to do" below.)
As you consider the cabins near Gatlinburg, keep in mind that many are located close to major entrances, trail heads and even the Greenbrier entrance (called by many the "local entrance",  and which is only two miles outside of Gatlinburg itself).
Open 24 hours a day and free to enter, the National Park has museums, visitor centers, and even trolley services that run the park route from the summer to autumn seasons.
Drive Roaring Fork Motor Nature Trail and Do Some Hiking Along the Way
As we just said above, many Gatlinburg cabins are close to the park, and even those that aren't close also aren't far! No matter how little time you have in the region, one of the "must do"  activities is to drive the Roaring Fork Motor Nature Trail. It is just six short miles and is a one-way loop road that lets you pass a number of historic sites and homes, an old cemetery where many of the region's earliest inhabitants are buried as well as the remains of an early village. You can stop for the many amazing photo opportunities, and we think you should try to enjoy a bit of the hiking nearby.
There are several trail heads right off the Roaring Fork Motor Nature Trail and they offer some easy to challenging hikes. Pack a picnic and head off on the Baskins Creek Falls loop that is just three miles and is dotted with waterfalls, or tackle Trillium Gap that is almost 14 miles and yet full of amazing views. In between the two are easy to moderate hikes such as Brushy Mountain, Bullhead Trail, Rainbow Falls, and Grotto Falls (very easy).
Whether staying in cabins near Gatlinburg or not, this is a not-to-be-missed experience in the Smokies.
Ober Gatlinburg Aerial Tram
Savor non-stop views of the region and the Great Smoky Mountains National Park when you hop on this 2.1 mile trip from the heart of Gatlinburg up into the mountains. You reach 11,000+ feet in a very short period of time, and though the views alone are a good reason to brave the journey on the Ober Gatlinburg Aerial Tram, you'll find that the zoo, the amusement park, restaurants, ice skating and other activities at the top of the mountain are also part of the fun. You can even hop on the nearby chair lift (as the site is part of a ski facility) to go even farther up the mountain.
Many Gatlinburg cabins are close to this spot, but there is also a cable car in the downtown area that takes visitors to the tram. As one of the largest tramways in the country, and with views that are impossible to beat, this is one you cannot miss. It takes only 20 minutes or so for the ascent and it runs year round. Whether you are visiting in the spring, the peak of summer, the fall season (with all of the colorful leaves) or the winter snow, this is one of the best things to do in the Smokies.
Bonus: The Gatlinburg Space Needle is in the heart of town and rises over 400 feet above the city. It gives amazing views of the Smokies and can be a good alternative if you don't have time for the tram.
Eat
Naturally, you can always eat at home, and if you are in one of the cabins near Gatlinburg, it is likely you can also prepare any meal you'd like from the comfort of your cozy cabin. However, we'd be remiss if we did not encourage travelers to delve into the deliciousness that is the local cuisine. In Gatlinburg alone there are dozens of delicious spots for local favorites. While there is the barbecue you might anticipate from classics like Bennett's in Gatlinburg and Corky's in Pigeon Forge, don't overlook the tiny local spots like Calhoun's or PawPaw's Catfish Kitchen (among dozens of others).
There are also plenty of amazing breakfast spots, like Crockett's and Log Cabin. There are steakhouses like Cherokee Grill and Alamo, and the list goes on and on. From ice cream or pizza to deli food and vegetarian options, there is no shortage of fantastic places to eat locally and abundantly - and then roll yourself back to your Gatlinburg cabins!
Visit a Moonshine Distillery
Though not a family-friendly activity, moonshine tastings are the wine tastings of the Smokies. You are likely to find at least a few spots to enjoy one close to the different cabins near Gatlinburg, but you'll definitely need a designated driver since even a few sips pack a lot of punch. There are few options in the area and it can be a really wonderful way to learn a bit about the history of the people who first migrated into the region and what they did with the abundant corn and pure waters they had access to.
This area was known, historically, as a "paradise" for those who made moonshine during Prohibition, but today, you can legally enjoy little sips at spots like Sugarlands Distilling Co., Ole Smoky Moonshine Distillery, and Doc Collier Moonshine Distillery.
Head to Cades Cove
Believe it or not, around two million people every year head to this spot. Why? In a word: Scenery. Simply breathtaking scenery is more accurate and it is a great spot to see some of the most historic sites remaining in the region. Cades Cove is an 11-mile loop, which can be combined with your drive of the Roaring Fork Motor Trail if you are limited for time, but it really deserves a few hours all its own.
Do the Great Smoky Mountains Arts & Crafts Loop
Staying in one of the Gatlinburg cabins puts you close to the amazing Great Smoky Mountains Arts & Crafts Loop. This is an 8-mile loop that takes visitors along the Tennessee Heritage Arts & Crafts Trail. Started back in the 1930s, it is a dream for those who crave artisan goods and the best souvenirs from their visit to the region. As the artisans themselves explain, visitors can find whittling, painting, sewing, weaving, casting, stained glass, photography, jewelry, ceramics, toys and so much more. You can also find a number of charming cafes, tea rooms, restaurants and other spots to enjoy as you explore this 8-mile stretch of artisan delights. There are free maps that help you find the 100+ shops and stops, and there is a trolley with stops close to many of the cabins near Gatlinburg.
All the Ripley's
If you are visiting with kids and staying in one of the Gatlinburg cabins, you'll also want to make a point of heading to a few of the "Ripley's" branded attractions. They are wonderful spots for families and include Ripley's Believe It Or Not! Odditorium (with the usual array of Ripley's oddities to enjoy),  Ripley's Marvelous Mirror Maze & Candy Factory, Ripley's Aquarium of the Smokies (one of the biggest favorites), Ripley's Haunted Adventure, Ripley's Davy Crockett Mini Golf, and the utterly adorable Ripley's Penguin Playhouse (part of the aquarium).
If you bring your kids with you during your stay in one of the cabins near Gatlinburg, you can make a point of hitting all of the Ripley attractions and comparing notes about the oddest or most awe-inspiring among them! In fact, they are so popular and fun, you can visit even if you didn't bring the kids!
Hop on the Trolley
With more than 100 places to hop on board, and offering you one of the most relaxing ways to take in the entire Gatlinburg area, the trolley is a must. There are so many stops that many Gatlinburg cabins boast one of them nearby. Note that you should figure out the different color-coded routes to make the most of your rides. After all, there are roughly 20 of these trolleys and they cover a 50 mile area, which is why we don't exaggerate when we say they often run close to many of the cabins near Gatlinburg.
Well, that makes ten (plus a bonus), and yet we have barely scraped the surface. After all, we have yet to mention Dollywood, the Sweet Fanny Adams Theater, Ober Gatlinburg Amusement Park and Ski Area (home to the tram), the Titanic Museum & Exhibit, Tanger Outlet Mall, Great Smoky Mountains Railroad, WonderWorks Museum, the Hollywood Star Cars Museum, enjoying one of the different ghost walks now popping up in the region, and of course, there is the Gatlinburg Mountain Coaster.
The Gatlinburg Mountain Coaster might be another "bonus" listing because it really does rate at as a must-see for those staying in Gatlinburg cabins. It is a wonderful way to take in the scenery and then savor an invigorating, or even a slow and poky, ride back down the mountain. You (and a friend, if you choose) can hop on your individual car and go as fast or as slow as you would like. The silent tracks make it even more enjoyable, and you can choose early morning, daytime or evening rides. They even have multi-trip passes!
Staying in cabins near Gatlinburg also means you'll see a great deal more of the wildlife of the region, even if that wasn't what you had planned. After all, Gatlinburg cabins put you in the wilderness alongside the many native birds, deer, and even bears and salamanders!
So, if you are eager to enjoy the Smokies, use our list and explore the other amazing opportunities for fun and entertainment. You can go outside of Gatlinburg to towns like Pigeon Forge and beyond, or you can make your base in the cabins near Gatlinburg and just do little day trips, short drives and so on.
The simple truth is that you will not be able to do all that you would like during a stay and will have to make plans to return. For most, this is good news and they delight at the idea of another few days or weeks in their favorite Gatlinburg cabins!